Dr. Iraniha Laparoscopic repair of diastasis recti by Dr. Iraniha
Diastasis recti or diastasis of Rectus muscles is an extremely common condition specially in young female after multiple pregnancies when the anterior abdominal wall muscles called rectus muscles have separated from each other and weakened the core muscle strength. This condition also associated with abdominal wall bulge with abnormal body posture, lower back pain and abdominal discomfort during heavy activity and exercise. This condition is an anatomical abnormality and does not improve spontaneously or with any type of exercise. These issues are seen and become more noticeable especially in women with thinner and smaller body frame and they never improve spontaneously even with diet and daily exercises. In fact the diastasis of rectus muscle and/or hernia could potentially get worse or become more noticeable after heavy exercise and/or excessive weight loss. Women after pregnancy not only have the potential of developing abdominal wall weakness with diastasis of rectus muscle and/or abdominal wall hernia, but also could experience other aesthetically undesirable conditions such as excessive skin laxity, stretch marks and excessive fat deposit around the abdomen and flank regions.
Laparoscopic surgical techniques
There are variety of laparoscopic surgical techniques to repair this problem which depends on the size and extent of diastasis, other associated problems including extra loose abdominal wall skin and excess fat as well as patient's expectations. My new laparoscopic surgery technique is a minimally invasive surgery procedure to repair the Diastasis Recti which offers the patients, less pain and faster recovery. However, not everyone with this condition is a good candidate for this procedure.
At Surgical Oasis Institute, an Orange County Laparoscopic and Robotic Surgery center Dr. Iraniha has the expertise in all available surgical technique to repair the "Diastasis Recti" and a comprehensive examination and surgical discussion would be provided prior to the surgery to customize the best surgical option for each patient. Please contact us at 949-646-8444 for virtual or in person surgical consultation.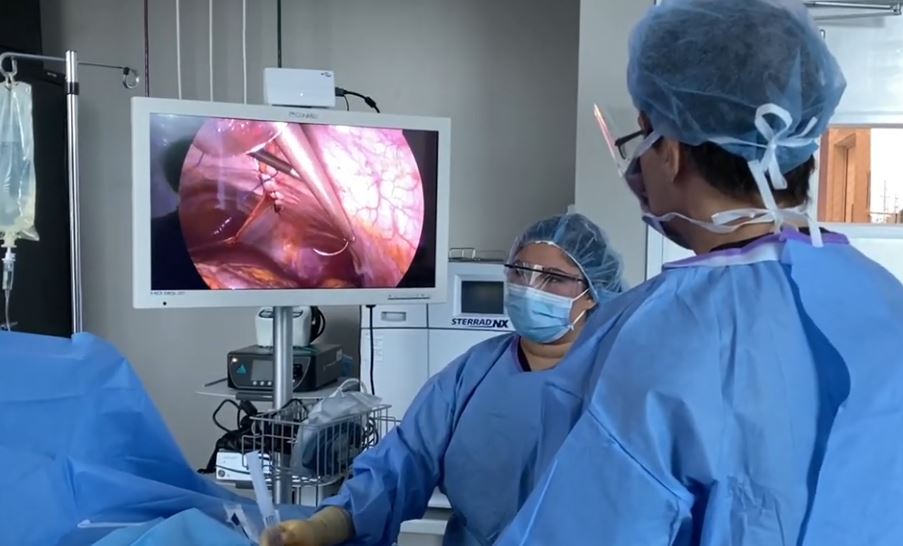 Dr. Iraniha Laparoscopic repair of diastasis recti video