Dr. Iraniha tummy tuck surgery in abdominal wall hernia repair
Tummy tuck surgery. Is there a role for tummy tuck surgery in abdominal wall hernia repair?
Tummy tuck surgery – Abdominal wall hernia is a defect in the abdominal wall muscle and usually presents with abdominal wall bulge with on and off pain and discomfort especially during activity and straining. Abdominal wall hernias need to be repaired due to potential life threatening complications such as incarceration or strangulation of the bowel. The conventional surgical options are open surgery vs minimally invasive hernia repair with or without placement of the mesh. These techniques are focused on repairing the anatomical abnormality and not necessarily on the aesthetic aspect of the abdominal wall especially in patients with large abdominal wall hernia associated with excess skin and fat. Tummy tuck surgery has an important role in these patients. In tummy tuck surgery, the surgeon would raise the skin and fat of the abdominal muscles all the way towards the rib cage to expose the entire anterior abdominal wall musculature. This allows the surgeon in our Orange County Robotic Hernia Repair Center to be able to freely repair the large hernia defect and tuck the loose abdominal wall. This approach also could possibly eliminate the necessity for placement of a mesh. Therefore, in tummy tuck procedure not only a large abdominal wall hernia could be repaired appropriately without usage a mesh with low risk of recurrence, but also the scar could be concealed in the lower abdomen, the excess skin could be removed and at the end it leads to a superior aesthetic outcome. Dr. Iraniha has expertise an Orange County Hernia Repair Center to perform hernia repair with variety of different techniques including open vs minimally invasive surgery as well as tummy tuck and/or mini tummy tuck surgery. At Surgical Oasis Institute, an Orange County Laparoscopic and Robotic Surgery center Dr. Iraniha has the expertise in all available surgical technique to repair the "tummy tuck and abdominal wall hernia repair" and a comprehensive examination and surgical discussion would be provided prior to the surgery to customize the best surgical option for each patient. Please contact us at 949-646-8444 for virtual or in person surgical consultation.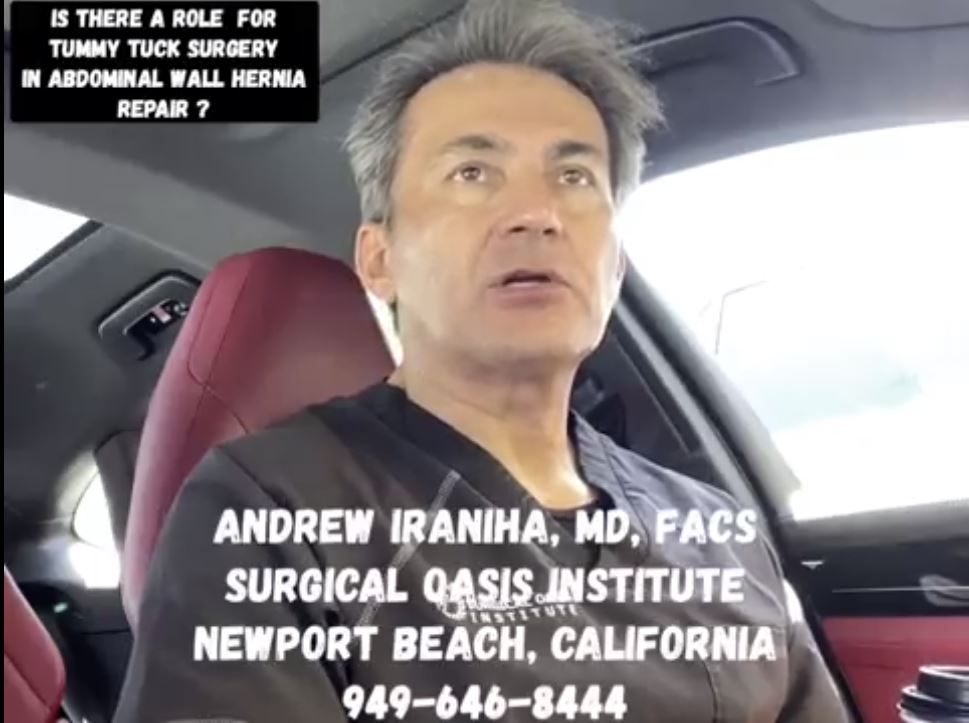 Dr Iraniha tummy tuck surgery in abdominal wall hernia repair