Robotic assisted bilateral inguinal hernia repair with mesh by Dr. Iraniha
In the bilateral inguinal hernia repair procedure the Orange County Expert Surgeon creates multiple small incisions on the abdominal wall to insert special ports for free movement of unique surgical instruments in and out of abdominal cavity during the laparoscopic surgery. This allows the surgeon to perform complex surgical tasks through these small incisions and therefore minimizes the trauma of the operation by eliminating the large incision. There are two types of minimally invasive surgery to repair the inguinal hernia, laparoscopic and robotic hernia repair. The surgery starts with general anesthesia and then I make three small incisions on the abdominal cavity and insert three special ports and subsequently insufflate the abdomen with CO2 to create an adequate space for performing the laparoscopy surgery. These ports are designed to allow the special instruments to go in and out of abdomen freely without losing the CO2 during the procedure.
Inguinal hernia repair laparoscopic surgery procedures
During laparoscopic surgery, I stand next to the patient and hold the laparoscopic instruments directly in my hands and using the camera while I am watching the intraabdominal cavity on a monitor, I am able to repair the hernia. However, during robotic surgery after I insert the special robotic instruments inside the abdominal cavity through these special ports, I connect them to the robotic arms and I leave the patient`s bedside and sit on a console that has a three D monitor and two joysticks. The robot is essentially a slave and is not pre-programmed, but it has the ability to translate the movement of my hands to the movement of the tip of robotic instruments and allow me to perform the surgical tasks. The actual operation in robotic surgery and laparoscopic surgery techniques are exactly the same. I open the peritoneum that is a thin smooth sheath covering the abdominal muscle from inside, right behind the hernia defect and create a pocket. Then I remove the hernia sac and place a mesh and patch the defect close. Subsequently I close the peritoneal opening to bury the mesh behind the muscle. At the end, the instruments and the ports are removed and the small incisions are closed with absorbable sutures.
At Surgical Oasis Institute, an Orange County Laparoscopic and Robotic Surgery center Dr. Iraniha has the expertise in all available surgical technique to repair the "bilateral inguinal hernia repair" and a comprehensive examination and surgical discussion would be provided prior to the surgery to customize the best surgical option for each patient. Please contact us at 949-646-8444 for virtual or in person surgical consultation.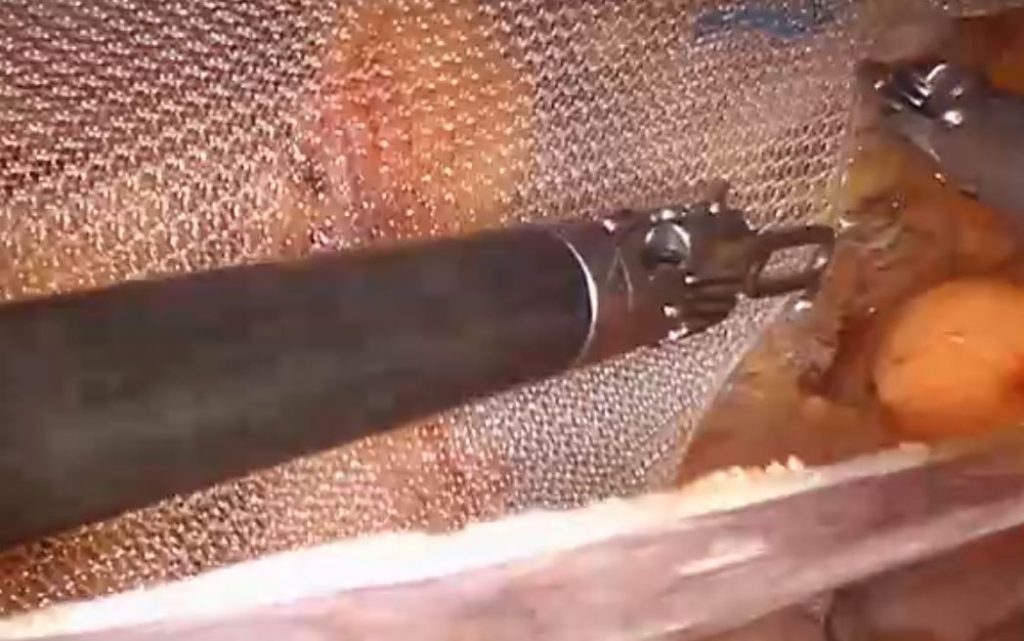 Dr Iraniha Robotic assisted bilateral inguinal hernia repair with mesh video